10 Amazing & Easy DIY Cat Furniture Ideas
DIY Furniture creates the best spaces for your kitties without breaking the bank on expensive store-bought cat furniture. Make DIY furniture if you want your cat to be happy and comfortable.  Stylish DIY home decor isn't just for people, DIY Furniture is not only functional but also beautifully designed.
1. DIY Cat Bed
Give your cat a comfortable place where they can sleep and rest.
2. DIY Cat Tent
DIY Cat Tent is a unique easy t-shirt and wire hanger cat tent design. It provides your little love with a cozy place to sleep play and hide.
3. DIY Cat Tree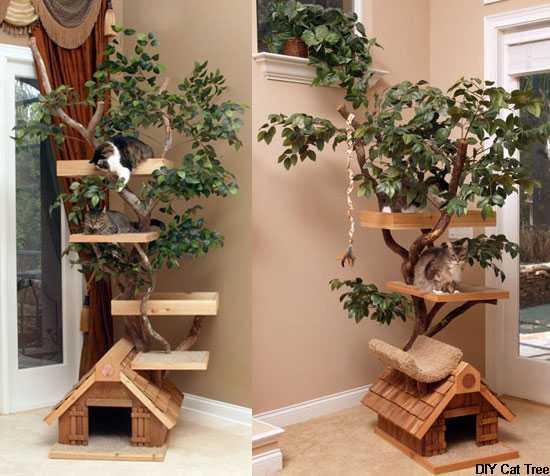 DIY Cat tree is a cat climbing toy. Cats are naturally fond of high places,  your pet surely will love this DIY Cat tree.
4. DIY Cat Hammock
Diy Hammock is a great place to relax.
A cat hammock looks elegant and easy to make. It provides a secure and comfortable resting spot for your lovely cat.
5. DIY Pet Bowl Stand
The DIY Pet bowl stand prevents your pet from sliding bowls around and provides protection for your floors. It keeps the feeding area cleaner which is essential to a sanitary life.
6. DIY Cat Exercise Wheel
DIY Cat exercise wheel gives the cat a safe outlet for the energy that would otherwise manifest in destructive or unwanted behaviors, like clawing at the furniture, racing through the halls, or harassing people.
7. DIY Cat Condo
The DIY Cat condo is a private cat condo. Plush pillows for your cat to lounge all day,  it is very convenient for both of you.
 8. DIY Scratching Post
DIY Scratching post offers the sturdiest scratching surface for your cat's scratching and grooming needs. This hefty sisal-wrapped post provides a perfect place for scratching & grooming.
9. DIY House Cat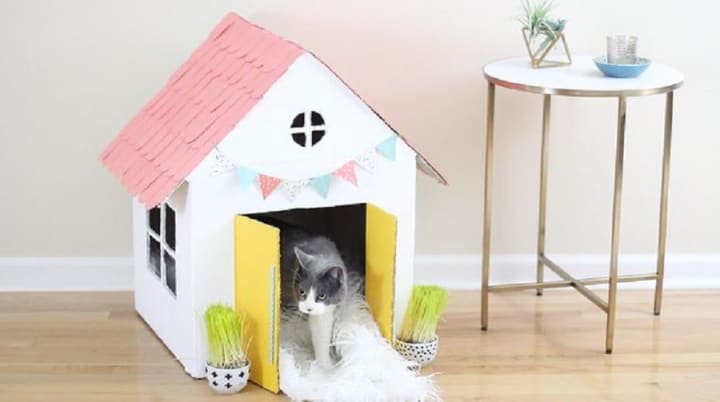 The DIY House Cat is a hiding space for napping that promotes nesting instinct. Give kitty a relaxing place to play and hide with this cardboard Cat House.
10. DIY Suitcase Cat Bed
The DIY Suitcase cat bed is a stylish bed for your beloved cat.