18 Cat Products That Won't Cramp Your Home's Style
A Feline lotus cat tower with soft cushions and washable faux suede covers above and inside the hide-a-way cubby. Its Zen-like design blends symmetry, functionality, and minimalism into a beautiful, flowering tower. The Lotus Cat Tower is great for multiple cats with its large platforms and stepped shelves, allowing cats to easily climb up and down.
Swinging cat bed that is crafted durable bamboo laminate will give you and your favorite feline years of style and comfort. Kittie Kat Cradle is a stylish modern furniture piece that will enhance any décor, (no more ugly bed to hide in corners !).
The Cat condo furniture bundle is great for cats' innate instinct of hiding in nature. Cat tree house intended for indoor use fits great in any room, made from pressed wood, carpet, and artificial leaves.
This Ultimate cat scratcher lounge is made of recycled cardboard, non-toxic corn starch glue. Recommended to save your furniture as cats prefer the feel of cardboard. Attractive design curves make for easier scratching & a more comfortable place to rest & play.
The Cat space-saving scratching post has a neat and solid natural wood frame with durable wooden sisal that naturally inspires scratching.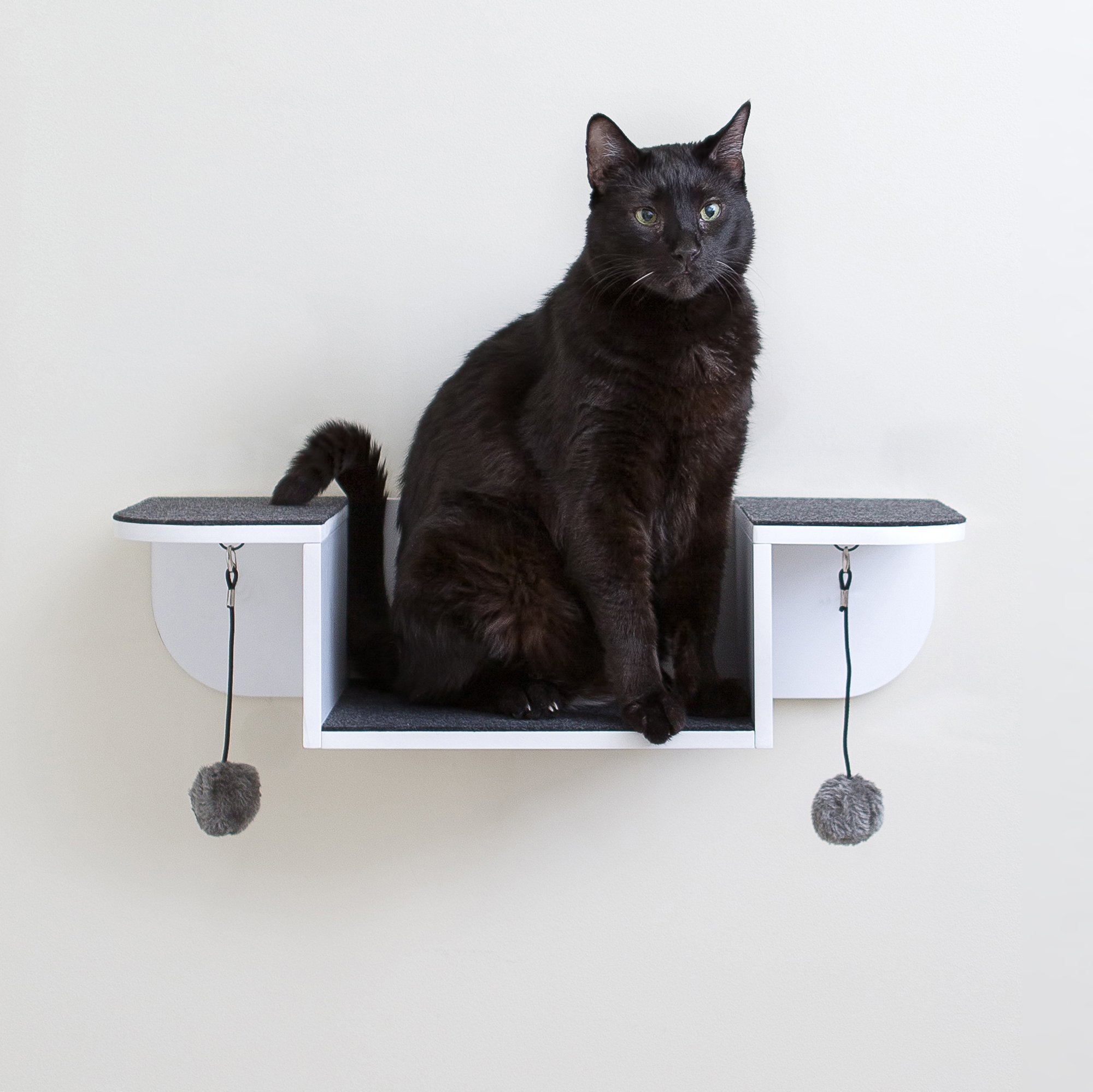 This Wall-mounted cat perch & bed is a space-saving mount on the wall that doesn't require any floor space. It enhances the cat's environment addressing natural instincts to climb and play. 
This Cat washroom storage bench litter box cover with sturdy wooden structure. A multi-function cat house design used as an end table.  Decorative design to any room in your house.
The luxury bamboo cat bed is a natural eco-friendly cat cave bed for indoor cats that can spoil your pets with the ultimate calming bed sanctuary. This gorgeous cat pod bed provides a sanctuary within a contemporary accent piece that complements any decor. Cat cave is painted with neutral interior color and the soft velvet-covered cushion adds a modern touch to any room.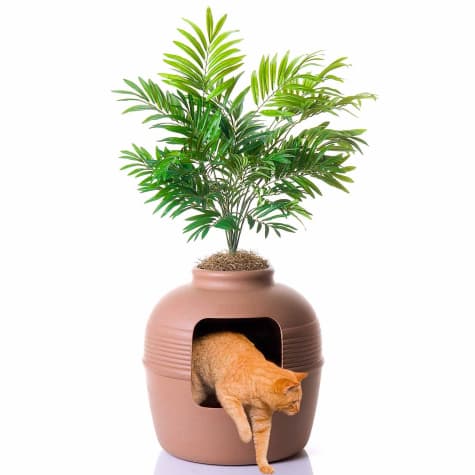 This Cat plant hidden litter box made of durable polypropylene. A large-capacity cat litter box looks like a real clay pot. Decorative moss, and a dust filter. The Hidden Litter Box looks like a clay pot that is complete with attractive high-quality plants. Hidden Litter will enhance the décor of any room. 
The Wooden indoor cat litter box enclosure cabinet, side table, storage bench furniture for living room, bedroom, bathroom / magazine. 
A durable cat litter mat is a pet like a cat litter mat's design that can nicely catch litters from litter boxes and cats. The good scatter control can keep your floor clean. The soft material is gentle for kitty paws and it's perfect for a snooze. The floral designs look nice and honorable.
Cat's playground & innovative cat tower letsyour cat roam and lounge in style. Clamp-on anywhere or any design you want. Cat-Kick goes on any bookcases, shelves or even on your desk. This great space-saving cat step shelf is ideal for small or modern spaces.
These Kitty Cots attach to glass windows, mirrors and smooth non-porous surfaces using four patented giant suction cups. Kitty Cots work indoors and outdoors. The Kitty Cot hammock is a super-tough black nylon fabric called "Tiger-Mesh". Design is so simple that anyone can put it up, and best of all you need no tools to install it.
The Cat tree condo tan that takes less space. A unique design is so simple, yet so sturdy it will handle multiple cats playing, climbing and roughhousing. Mounts on virtually any door with seven peepholes for viewing. Complete interior access for all levels and folds down for easy removal and storage.
The Wall mount cat floating steps shelves scratching post with leaser feather and fluffy ball. The natural sisal thick rope is environmentally friendly and durable. It is simply designed but can always go with different home styles.
This Cat activity plays treehouse comes with 4 interactive hanging plush balls which are padded with catnip, providing more attraction and interactive experience for your lovely cat. This cat tower features a spacious room, it is an ideal place for a cat to hide and seek, as well as to relax and sleep inside. It can also protect your cat against some cold winds during the cold winter and keep warm.
The Cat club condo covered by natural sisal rope material.  This Cat Tree is made from highly durable compressed wood, wrapped with high-quality Faux Fur to keep your cats warm and cozy. Multiple scratching posts are covered by natural sisal ropes which are perfect for your cats to scratch, climb, play and become active. 
Cat treats containers set with the scoop. This beige-colored farmhouse-style pet food container combo will look awesome in any decor or environment. Any guests, friends or family will be sure to compliment you on this luxurious looking food and treat the storage set.