29 Perfect Gifts Cat Lovers Will Go Crazy For
Cat lovers love a unique cat-themed gift that they'll actually use and enjoy every day.
Here are top-rated gifts for cat lovers
Unique wine glass gift for cat lovers that is a perfect birthday gift for women, girlfriend or wife. A truly permanent imprint that will never fade or lose its glow. Perfect for the wine lovers. Printed with superior ceramic inks that are fired on at a temperature of up to 1200 degrees. Great gift for a Birthday, Valentine's Day, Anniversary or Mother's Day for women.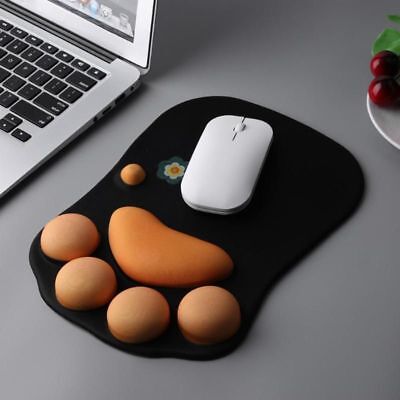 Cat Paw Soft Silicone Mouse Pad Wrist Support. A cute cat paw design that helps to relax your wrist effectively for long time work or study. The cat paw pads are firm and supportive. The mouse pad gives good support for your wrist. A great sweet gift for your significant other.
 Funny Cartoon Cotton Crew Socks that is a perfect gift for your mom, wife, sister, men, and women on Christmas, birthday and any other holiday. It provides breathability and shock absorption. A lovely cat design with a fashionable cute look that can perfectly match any clothes and pants. Lovely cat pattern and classic colors are suitable for home, office, sports, and everyday use. The thickness is moderate and fits for winter, spring, and autumn.
Fred & Friends funny side up silicone egg mold. A handy frame that helps turn eggs into a fun feline-inspired treat.  Funny Side Up is a handy frame that helps turn eggs into a fun, feline-inspired treat! It is made of pure food-safe silicone. A perfect style that serves a pair of sunny-side-up eggs. Great for a couple of gifts.  It makes a charming shaped egg. It is very fun and functional.
Cat figure pop-up note dispenser. A fun dispenser that has a unique design and personalizes your workspace. Made with a unique adhesive designed for paper. It is a perfect gift idea for cat lovers.
Chronicle Books Themed Card Game. OLD CLASSIC: No "Old Maids" match a cute collection of feline friends, like Fluffer Nutter, Aaron Purr, and Chip. It is a perfect gift for cat lovers. This thoroughly modern twist on the classic card game has players racing to end up as the awesome cat Lady. The petite, portable tins are the perfect size to throw in your purse or luggage for a vacation so you can take it anywhere. This game is great for groups ranging from 2-6 players of all ages.  A Fun to play and packed with gorgeous illustrations by Megan Lynn Kott, this game makes an excellent gift for feline lovers.
Cute cartoon cat pattern linen cotton throw pillowcase is great for cat lover homeowners.  Perfect decoration for a cat lover. A great gift idea for men and women. It is perfect for your home, office, playroom, kids' room, car or cafe, study, studio, club, bar, and others. the colorful pillow cover is quality checked, lab-tested that fade-resistant and UV protected. All fabric edges are sewn with a zigzag overlock stitch to prevent the fray and ensure durability.
Welcome cat decorative doormat that features a unique adorable pattern printed in fade-resistant ink. A perfect gift for all occasions. It's made from natural coconut coir fiber.
Cat bag clips keep food fresh like snacks and dry foodstuffs. It can be used to seal up the cat food bag that your cat will appreciate. A perfect housewarming gift that's not too overwhelming.
Cat earrings are ideal gifts for cat lovers. It makes a wonderful gift for any occasion. Whether a birthday, anniversary, wedding, Christmas or Valentine's Day.
Off-color adult coloring book for cat lovers. It is a great gift idea. Perfect for all coloring and paint mediums with silky matte finish premium cover design. Laugh your butt off as you color this hilarious and irreverent coloring book full of cute cats & kittens presenting their butts.
Cat Fleece Dean Russo blanket designs that are perfect for home or a gift for holidays. An excellent gift for pet-loving humans.
Feline ceramic cat flower planter pot is an ideal container for small potted plants like cacti or succulent plants, mini flower plants, indoor herb garden, bonsai plants. Decorative Cat shaped plant pot is perfect for any home decor, small spaces, patio, deck, counters or office desk. It is an indoor flower planter pot. Cat planter pot is a stylish decoration for any room and makes a great gift for your favorite gardener, cat lover or yourself.
Bag cat big canvas tote bag that are ideal gifts for cat lovers. The cute cat pattern is designed by the latest Thermal Transfer Printing Technology and never fall off. It can last for a longer time and keep fashionable & charming. It also has a smooth zipper closure and inside small pocket ensures the safety of your belongings. An environmentally friendly style that can be used as the handbag, top handle bag, shoulder bag, hobo bag, tote bag, shopping bag, and crossbody bag. Perfect for dating, working, shopping, traveling and daily use. 
Cute cat telescopic pencil pouch bag that is made of canvas. Great for storing a variety of art, pens, pencils and other small things and an ideal gift to writer friends. Zipper design is made of canvas. It also has a telescopic design that can be used as a pen holder.
Cat phone case transparent clear with the pattern ultra slim shockproof, it is an ideal gift to your lone ones. A personalized print pattern design makes you and your smartphone look more unique. It is made of TPU material, soft and flexible, non-toxic and environmentally friendly, durable for long usage.
Cat-themed soap dispenser that's an ideal gift to your loved ones. A fanciful feline-themed soap dispenser provides a perfect spot to store sponges. A compact, multi-purpose dishwashing bundle designed to keep countertops organized and clutter-free.
3D Black kitty ceramic coffee mugs that a hand-painted a mug gift for your daughter, wife, mother or coworker on their birthday, Christmas or valentines. A fun high-quality and thoroughly inspect cat-shaped mug. Great décor for your office or kitchen, Keep  your pencils or office supplies handy in style with our unique cat cups !
Cat candle melts to reveal a metallic skeleton that you can keep for a quirky decor item.  Pyro Pet candles is a family of animal-shaped candles with a hidden surprise. It may look like an innocuous wax ornament, but strike a match, light the wick and you will soon see the pyro pet candle for what it really is. Each candle is slightly different and will burn in its own unique way.
Cat Sailor Moon Artemis & Luna Foil Pint Glass is a gift idea for your family. Pint glasses feature two of the beloved cats from the sailor moon series with pink and gold metallic design.
Cat ring holder for jewelry with the animal ring holder complements and blends into many interior spaces. Perfect for Valentine's Day, Birthdays, Mother's Day, Christmas, or other special occasions.
Mini cat-shaped cake molds that are great for parties and holidays, Halloween.  A cupcake mold for baking truly 3D cat-shaped cupcakes, surprise any baker/cat lover in your life with this very unique gift. Perfect for complex-shaped cakes. Perfect gift for cat lovers, bakers, and children.
Cat headphones over the ear with LED glowing cat ears. The cat headphones are lightweight and portable, foldable and rotate for easy storage and carrying, can be folded 90 degrees from the outside to the inside or up. The earmuffs are made of foam-padded ear cushions for long-term comfort wear. Tension and elasticity are very moderate. Foldable design makes it convenient to carry, you can easily put it in the suitcase or bag, easier to carry. 
Cat Spiral Notebook that has 160 lined pages for notes, reminders, to-dos or a bit of idle doodling. Perfectly sized for office or home and easily tucks into a backpack.
Cat professional business card holder for men and women. It will keep your cards well organized. Ideal for various business occasions. Perfect gift for everyone.
Cat smartphone stand that is a great gift to your loved ones. A cute stretching cat smartphone stand that is very useful as a smartphone accessory. 
Cat credit card holder for men and women.  A stylish travel wallet that is the best protection for Atm cards, ID, etc. Eco-friendly and a perfect gift idea. excellent protection of data chips in the cards from electro-magnetic radiation and all RFID scanners. Credit, ID, ATM Cards be protected all the time on public transportation & crowded places. Perfect gift for daughter, friend, wife, girlfriend, colleague, student, teacher.
The cat keychain holder is made of black silicone material. Features a cat shape design and gold metal hardware accents. It can be clipped onto a lanyard to use as an ID badge, fastened to your car key ring, or added to luggage for easy recognition.
 A cute cat shower curtain that is made with polyester construction to reduce fading and to shed water. This cartoon kitten bath curtain is sure to make a great addition to the bathroom. A perfect gift for a cat lover.